Honestly, I'm kind of a geek. I'm a weird combination of Dr-Who-loving nerd and fashion lover. I'm equally happy shopping in an endless girly escapade and curling up with a book for a night of reading.
What you might not know is that I lived a past life as a banquet captain, LOVE making timelines, and go crazy over well-planned, tiny details. The father-daughter dance is also my favorite part of every wedding. (Tears streaming down my face every time.)
My studio in downtown Buffalo is open and airy, with massive windows and lots of light. It's classic but has a modern edge.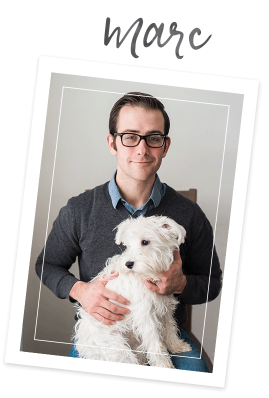 I'm also lucky enough to have my amazing husband, Marc, on board for shooting weddings, so you'll get to meet him, and your fiance will be thankful to have a guy documenting him while he gets ready!
When I'm not shooting weddings or portraits, you'll find me binging on Netflix or playing with my son, Harrison.
HERE ARE A FEW OF OUR FAVORITE THINGS:
To get yourself lined up for coffee at our studio with me,

e-mail
nicole@nicolegattophotography.com
or call 716.308.5237.